16 years of elf on the shelf fun! A mom shares her Elf on the Shelf tips and tricks.
I've been doing this with my kids for 16 years. I'm not going to lie, it took some practice! I have a love-hate relationship with the elf. But now, I'm an elf pro. If you want your kid(s) to love the elf experience and make their own memories, these tips will help you get started:
These elf on the shelf tips and tricks will help make your elf experience magical this holiday season.
Elf on the Shelf is one of those traditions that many people have come to love. We've been doing it in our family for 16 years, and we're always excited to see what mischief our elf gets into while we're sleeping in the night. The trouble is, with so many elves out there, how can you make yours stand out?
That's where these tips come in: they'll help you make your elf experience magic this holiday season.
Elf On The Shelf Tips #1 – Don't panic if you forget to move the elf.
The first thing you should learn is that it's okay if you forget to move the elf. You simply can't be expected to do everything perfectly, and kids are going to be fine with whatever happens! As long as the elf makes an appearance, your kids will be happy. Don't get too stressed about it—it's just an elf!
Alternatively, if your child realizes that you forgot about moving their little friend over from his original spot under the tree into one of their rooms, let them know there was a flitch in the system, or the elf was too tired, or the one I like to use – is that my son was "too naughty the elf couldn't bear to fly to the North Pole to update Santa!" – I like to play up the dramatics .
At this point, your kid will usually laugh at how silly their mommy is!
Announcing The Elf (or Elves) " The Arrival"
Prepare to tell your kids that you have an elf. They probably already know (if they're like mine, they've known for a long time), but if you are new to the elf on the shelf you should use this opportunity to make a big deal out of it.
The Elf (or Elves) Arrival is where you tell the kids to be on the lookout for the elf. You can make up a special name for the elf and announce that he's arriving – if you're a newbie.
This year we are having our elves arrive in a present that the kids are going to open it – surprise!
It's important that you treat this announcement as an event—a holiday spectacular, if you will—and play it up for all it's worth. Make sure your child knows that he (or she) should look in all of their favorite hiding spots for clues about where his or her new friend may be hanging out.
Before you announce his arrival though, take some time over dinner with your family and see if anyone has any ideas about what his name should be.
Or Have a naming ceremony! We couldn't agree on an elf name, so we put all our favorite names into a hat and drew a name that way the kids did not fight over it.
Elf on the Shelf Tips & Tricks : Arrival Ideas
Take a moment to appreciate the fact that your house is filled with enough plastic Christmas decorations to make a Wal-Mart employee blush. It's a beautiful sight, one filled with twinkling lights and snowmen and angels on top of trees. (Well, at least mine is anyway)!
The best way to welcome your Elf is by turning those decorations into something magical.
I use all of our decorations to help aid me in surviving the Elf On The Shelf Shenanigans, the can hide in the tree, he can ride the ornaments, he can get stuck in the tree topper! There's so many silly ways to hide your elf with the things around your home.
Here's a simple way to announce his arrival:
Pudding Up the Decorations
"We hope you're excited to start pudding up the decorations."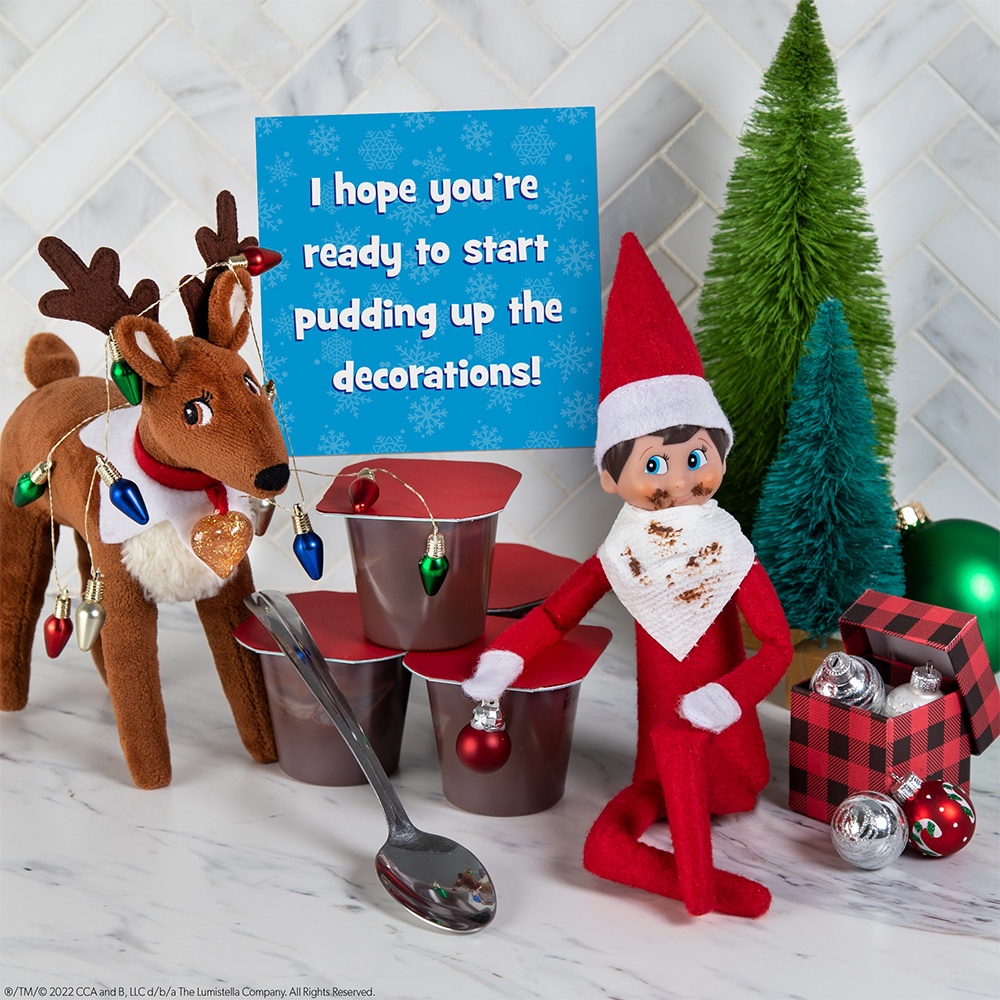 Materials:
Your favorite pudding cups
Color printer
Paper
Free Printable Below (or you can hand write the note)
A few decorations
Instructions:
Print and prepare the printable.
Set out some pudding and the elf
Your Scout Elf will leave the Christmas decorations out to let you know that it is time to deck the halls and celebrate!
Or an Elf Family Pajama Party Welcome
"Are you ready for the pajama party?" – Welcome the Elves back with a Pajama Night in Style!
Materials:
Elf Pajamas
Elf-sized pillows and blankets (I Just cut up some old fabric I had).
Instructions:
Dress your elf up in their favorite pj's (here's the elf on the shelf Pajamas available this year if you want to buy them).
Then they will gather elf-sized pillows and blankets to get cozy for Fam-Jam Pajama Night!
Give the Elf A Mission
We all know that elves are like ninja spies. They're not just there to observe, they're there to report back to Santa (and keep an eye on the kids). So we make Naughty and Nice Reports that the elf can take to the North Pole (OH NO!).
So, when you first introduce your elf let your kids know he is on a MISSION to catch them doing good things! Now you can start getting creative with how the elf is going to create fun, cute or chaotic memories for your kids!
Elf on the Shelf Tips #2 – Don't STRESS
Take advantage of any opportunity to create memories with the elf on the shelf, don't worry about the stress of making it Pinterest perfect!
There is no wrong way to do the elf on the shelf! It's a fun way to engage with your kids and make memories.
Don't make it more complicated than it needs to be.
Elf on the Shelf Tips #3 – Use what you have on hand!
I started with the basics, I used what I had around my house when I first started this – there wasn't much of Pinterest, any kids or idea books – so I was on my own!
I use legos and blocks to create "ice forts", I used barbie cars to put the elf in to drive around. I use mini marshmallows to make the elves have a snow ball fight – and so on!
You can try making your own props using stuff like waffles or cups! We'll show you below, so keep reading.
Ideas for using things on hand….
Set Up A Reading Corner (Perfect Idea for Teachers!)
Your Elf can encourage students' and kids reading by creating a cozy space where they can relax and enjoy their books. Then encourage them each day after school before bedtime until Christmas Eve night when the magic happens!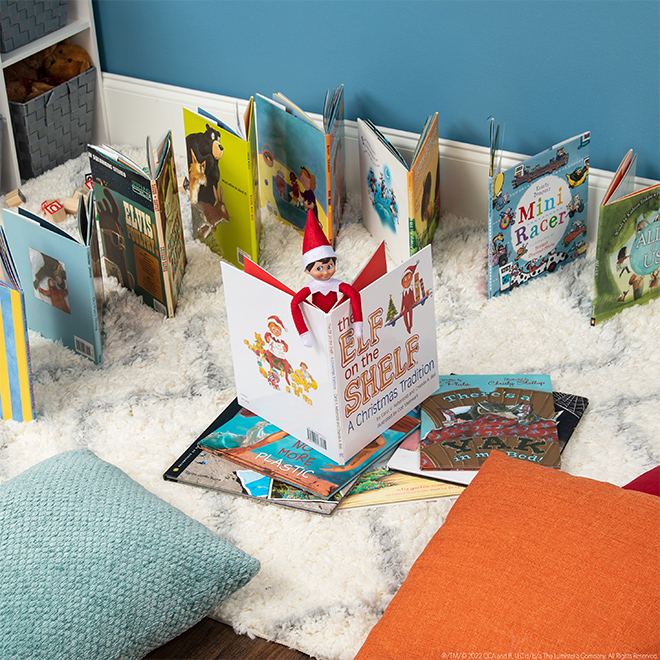 Materials:
5 to 10 children's books.
Instructions:
Place your Elf reading the books
Next, – set up books around them in a reading corner and invite students or kids to read along with them!
Crazy About Pop-Its
Pop-its are all the craze so why not bring your elf into the fun! With this Waffle Pop-it Idea.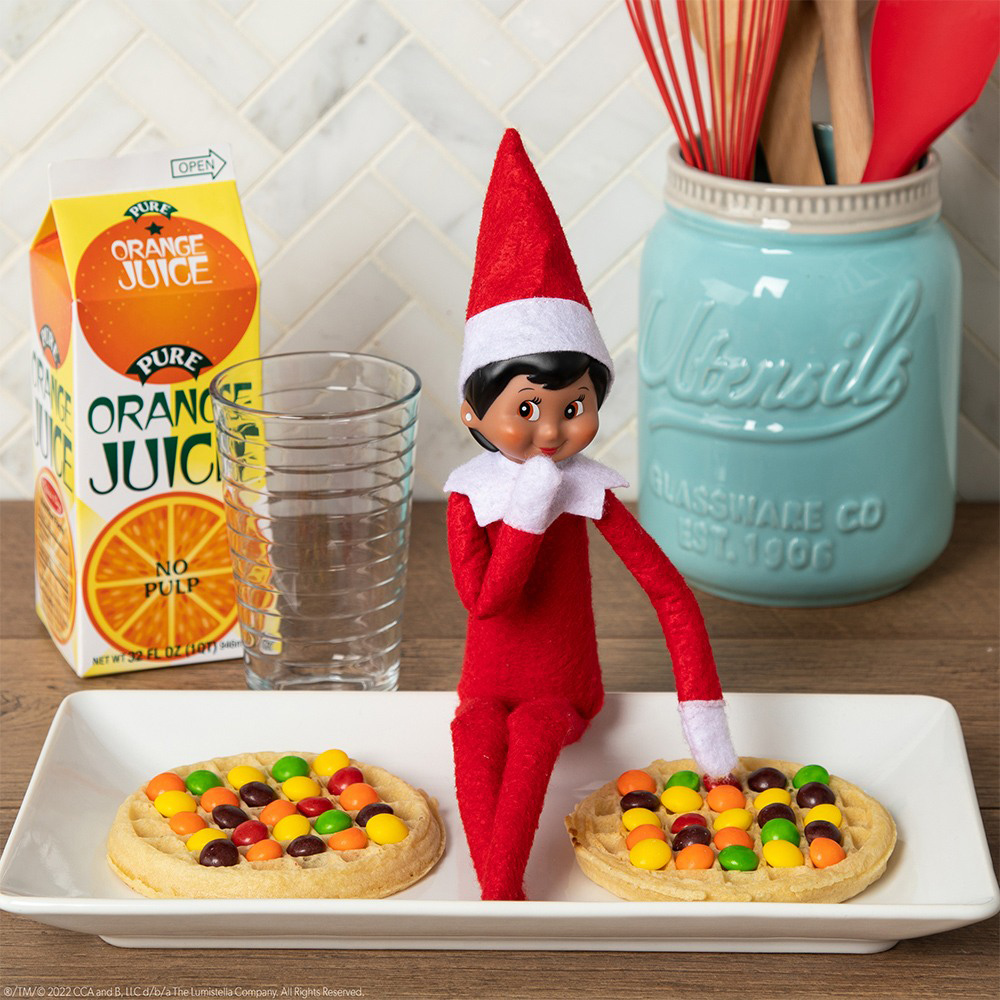 Materials:
Pre-made waffles, or your favorite waffle batter & waffle iron
Round, colorful candies or fruit for a healthier option.
Instructions:
Prepare your favorite waffles.
Then add candies to the waffle squares to make a pop-its look-alike toy!
Elf on the Shelf Tips #4; Make your kids work for it a little.
Don't give it to them too easy but also don't make finding the elf impossible.
This is where parents can get into trouble: you want to make it a challenge, but there's a fine line between "challenge" and "too hard." If your child has had no experience with Elf on the Shelf he might get frustrated if he or she can't find it in the morning, so put it in an obvious place, especially if they're younger.
You could have each day's elf deliver a riddle joke or a puzzle that needs solving before they can get their reward; maybe make them do something nice for someone else!
Elf On The Shelf Tips for Cute Elf On The Shelf Ideas
As the elf on the shelf master of Christmas (aka MOM), you will be expected to perform a number of activities. Your job is to make sure that your child has an amazing Christmas season, and that means surprising them with cute elf on the shelf ideas- but let's do it without the stress! Here are some of our favorites:
Nutcracker imposter elf:
Have an army of nutcracker imposter elves ready to go! Have your elf blend in with a line up of Nutcrackers.
"Just act natural…We want to blend in…"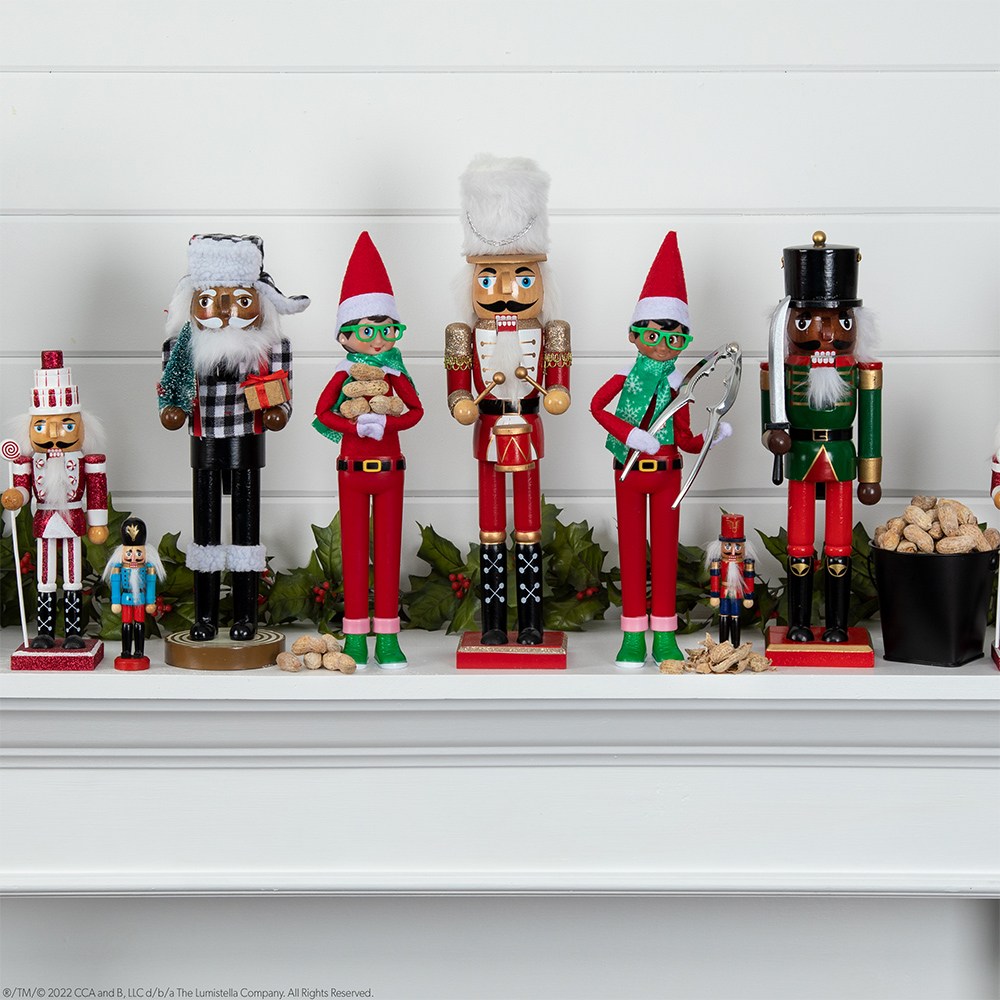 Materials:
Nutcrackers
MagiFreez® Pants (if you want them to stand up straight!)
Instructions:
Arrange some Nutcracker friends into a line-up.
Next, place the elves standing tall with MagiFreez® pants, among the nutcrackers – they're trying to blend in and "hide".
Elf Garden Fairy Magic Idea
"Don't mind me…I'm just doing a little magic to make your flowers grow."
This one is perfect elf on the shelf idea for the princess- and magic-loving child in your life.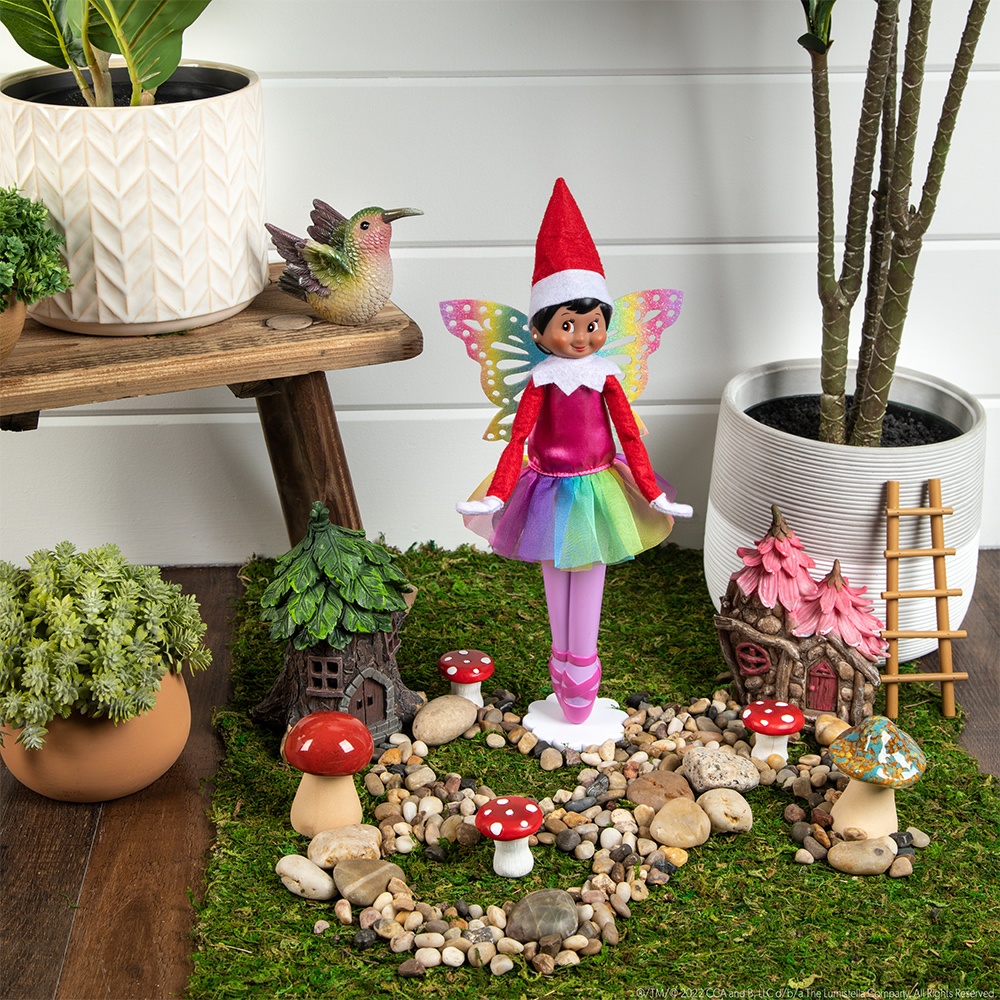 Source: Elf on the shelf.
Materials Needed :
Instructions:
Your Scout Elf will dress up as a fairy (maybe with the help of MagiFreez outfit).
Next, they will stage a garden scene and wait for you to find them among the mushrooms, flowers, elf-sized trees, and moss.
More Complicated Elf On The Shelf Ideas
Sometimes, the most simple things make the biggest impact. But, when your Elf has been in your life for a while and you want to add some new twists and turns to his journey, here are a few ideas:
Wheel Of Wonder
"I feel dizzy."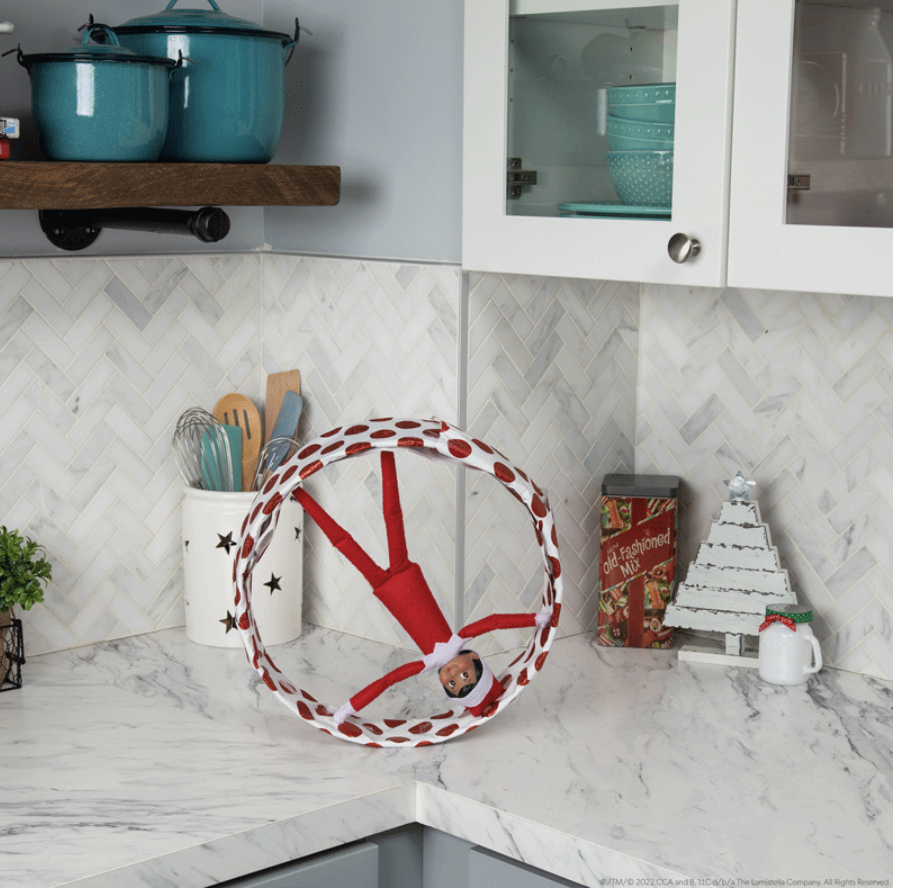 Instructions:
First, if you want or have time – wrap the springform pan with Christmas-themed wrapping paper. This is NOT necessary!
Next, they will place their hands and feet on all sides of the wheel (with the help of adhesive dots) and take a spin around the room!
This Elf Likes to Shop and Save, Just Like Mom!
"Did you see the new deal on Amazing Stealz?"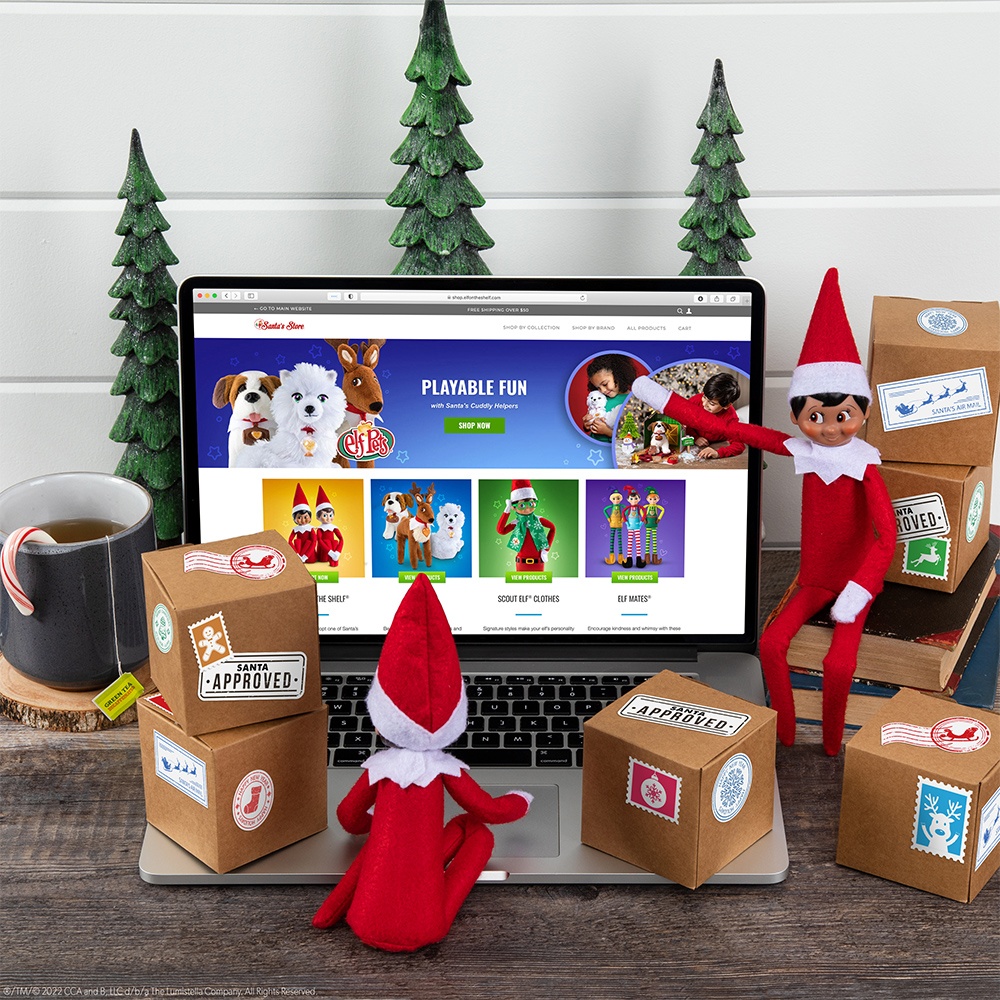 Materials:
Laptop computer, Tablet, or Phone.
Printer
Construction paper
Printable boxes – Download Below
Scissors
Instructions:
Print and fold together the elf-sized mini mailing packages.
Next, place them in front of a laptop /computer with shop.elfontheshelf.com showing on screen.
Then place all the elf-sized mailing packages around them to showcase their online shopping spree! I just draw little mailing labels on mine! Or use real amazon packages!
Elf on the Shelf Tips for Funny Elf On The Shelf Ideas
New Eye-Pad
This is a great way to have your Elf on the Shelf make it look like he's got a new toy! "Eye" spy something silly with this new Elf Toy!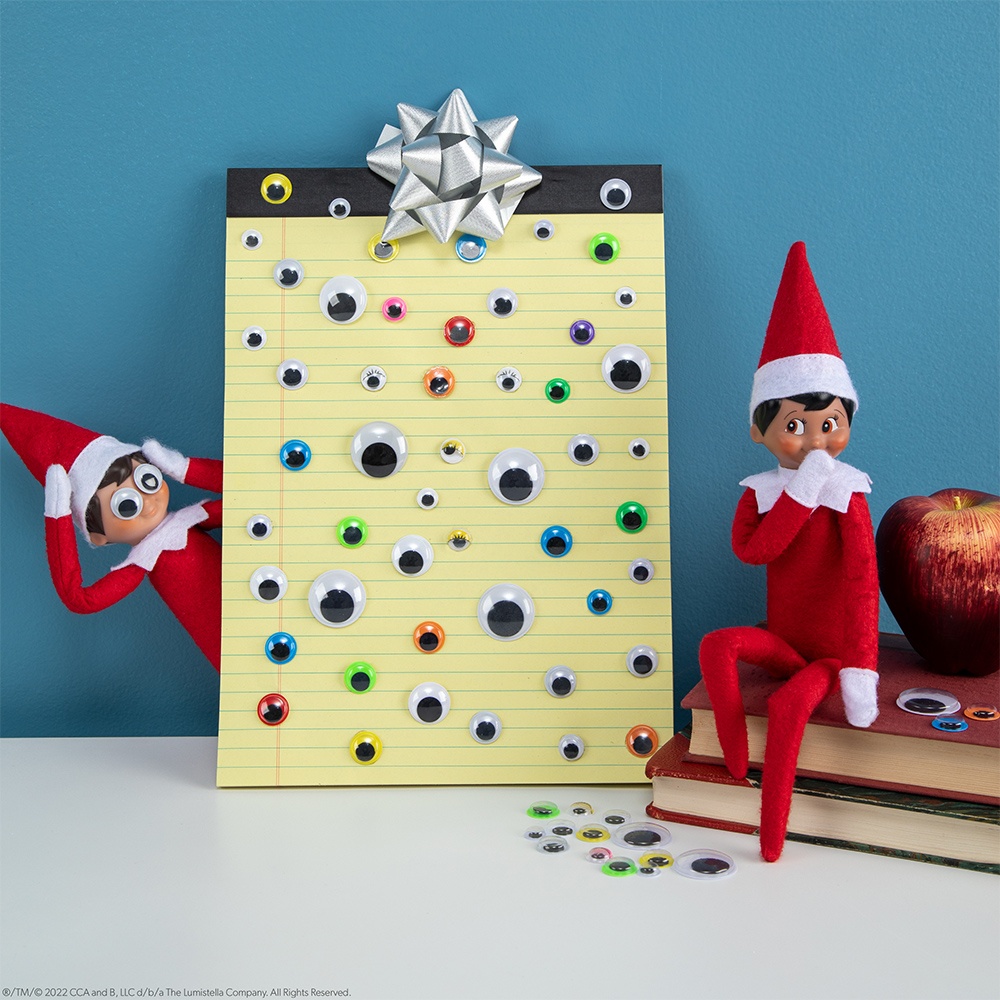 Materials:
Instructions:
Adhere the googly eyes to the notepad to make an "eye-pad".
Place the "eye-pad" somewhere visible so that everyone who sees it will be able to laugh.
Ironing Out the Wrinkles: "I'm doing a little tidying up"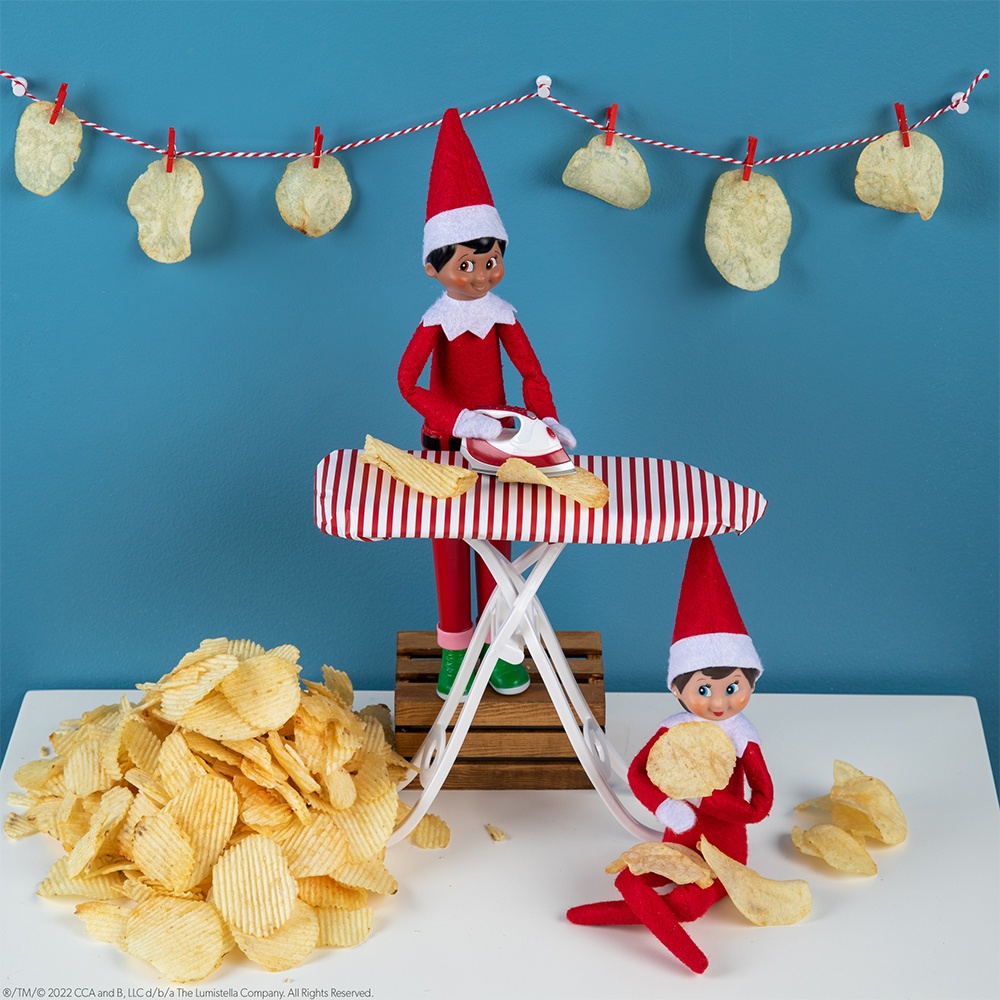 Instructions:
Set out the potato chips
Set up their elf-sized ironing board and iron.
Put those elves to work!
Tucked into Bed
Get some bread and slice it open down one side with a knife. Then put an Elf inside! You can do this with any kind of bread—white or wheat!
"Just taking a power nap…"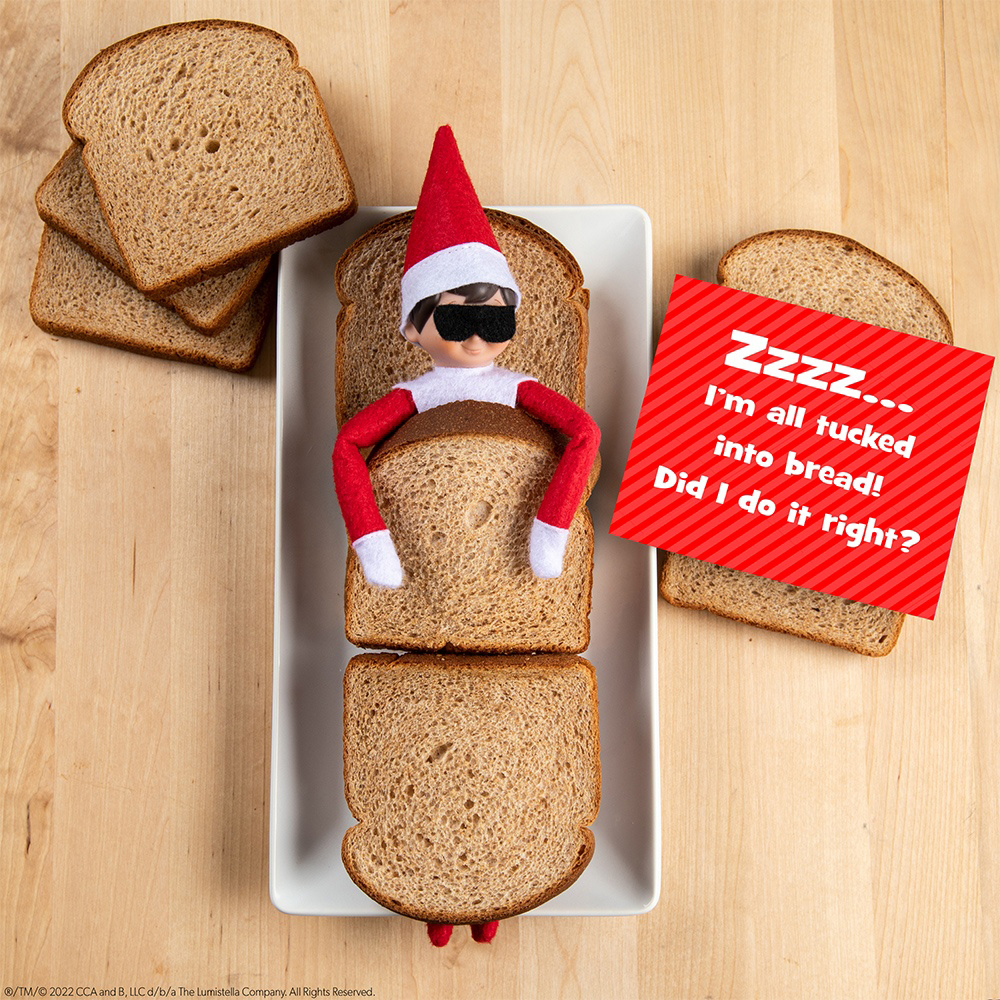 Materials:
Sliced bread
Plate
Printer
Paper
Printable
Instructions:
Prepare the printable card with a silly message.
Tuck them between the slices of bread for a cozy night.
Elf On The Shelf Tips for Easy Elf On The Shelf Ideas
Scout Elf Journal
This is one of my favorites. You can find templates all over the internet, but my favorite is this free one here. Simply print out your template, cut it out and glue to construction paper!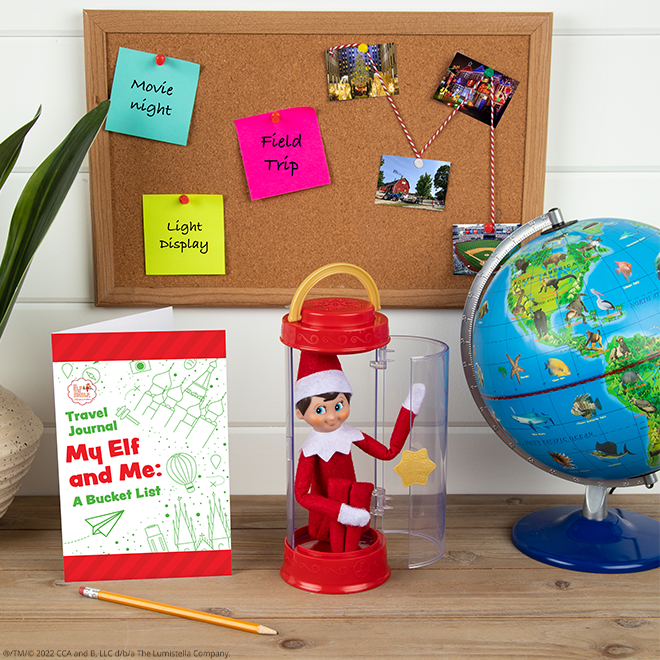 Materials:
Printer
Copy paper/card stock
Printable
Scissors
Instructions:
Print, cut and set out the bucket list journal.
Put the Elf in Scout Elf Carrier for the day's bucket-list adventure.
Then, the kids will use the travel journal to mark off each elf-tastic activity they participate in with their Elf!
Poems From The Elf
These poems are available for free download and can be used to send a sweet message any day!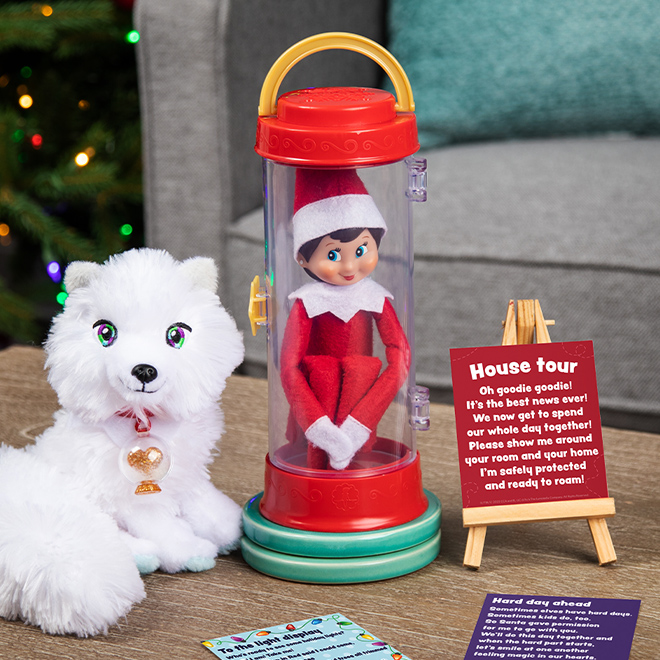 Materials:
Printer
Copy paper/card stock
Printables
Scissors
Mini Easel (not necessary) You can just set it next to the elf!
Instructions:
Pick out the perfect poem for the next day.
Print, cut and set it out beside their Scout Elf Carrier.
Finally, they'll wait in the carrier to be found and kids will discover what the Scout Elf has planned by reading the sweet message from their magical friend.
Do It For The 'Gram!
This one just makes me smile every time I think about it because it's so silly They'll get quite a kick outta reading through all these silly lines before bedtime!!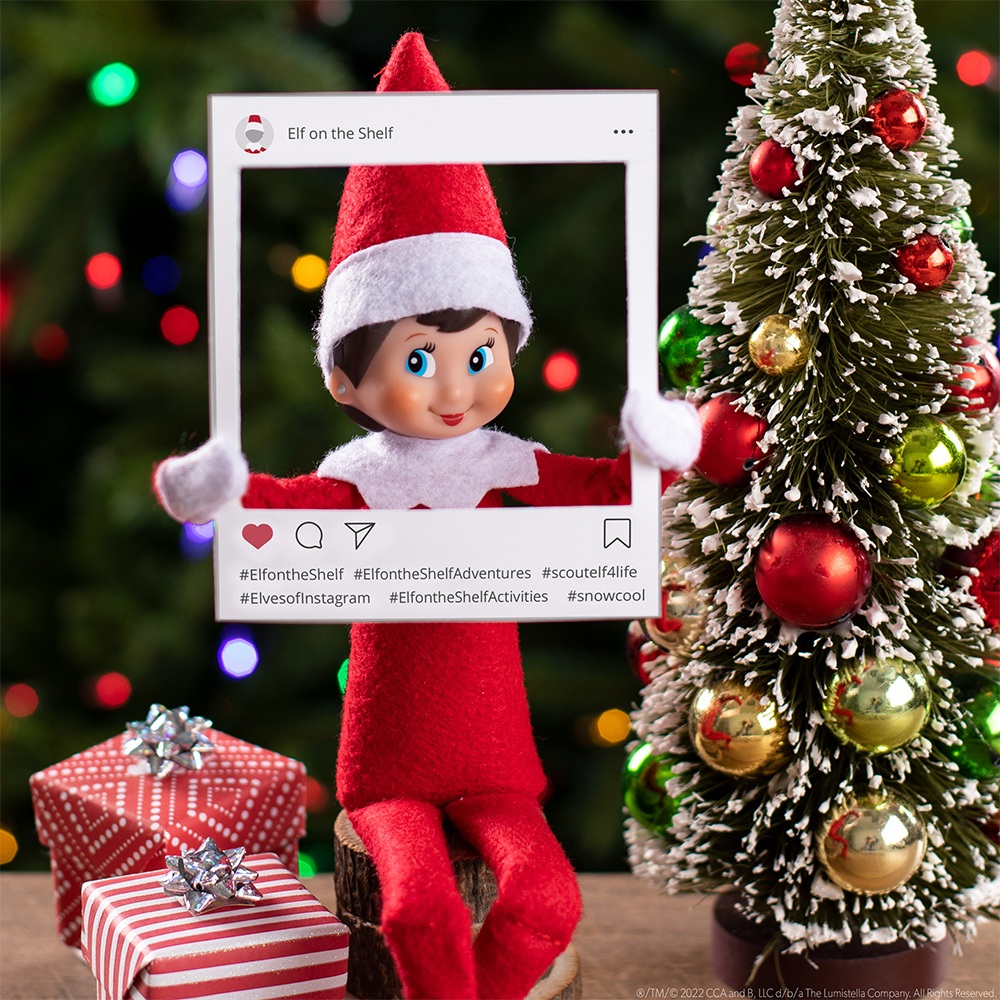 Materials:
Printer
Paper
Printable
Scissors
Instructions:
Print and cut the printable.
Then, place the cut-out in front of the elf to make a hilarious Instagram photo!
S-Elfie Session
"I think we just found our new profile picture!"
Materials:
Instructions:
The Scout Elf will secretly use your phone to take selfies.
They'll then flood through your camera roll and post them online without you knowing! (What naughty elves!)
Elf On The Shelf Tip #5 – Saying Goodbye To The Elf, FAREWELL! Adios, BYE-BYE!
Saying goodbye to the elf is bittersweet. It's time to say farewell and send him packing, for good – just kidding – until next year little puddle.
Made It Back to the North Pole In One Piece!
"Mind shipping my things Priority North Pole Candy Cane Express?"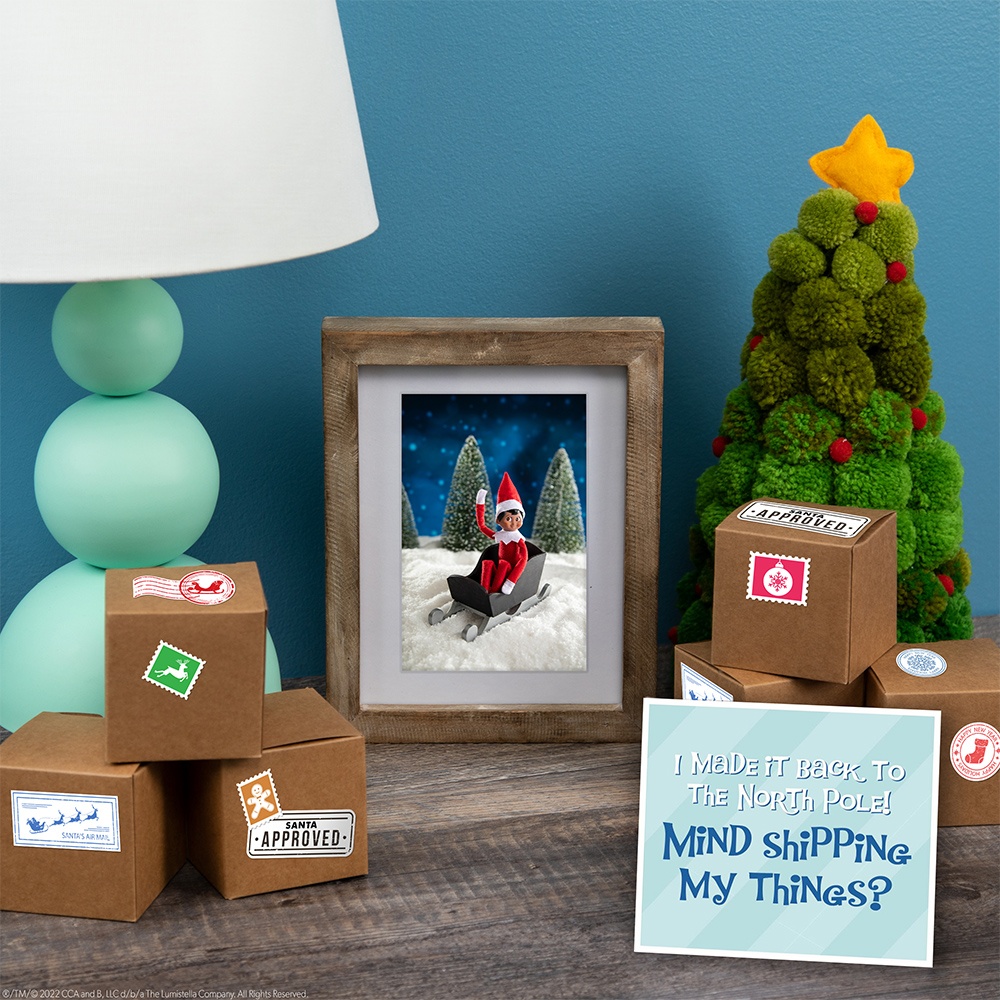 Materials:
Picture frame
Printer
Paper
Printable
Scissors
Elf-sized packages or regular boxes
Instructions:
Snap a picture and set out in a picture frame for you to see.
Set out the printable message and elf-sized packing boxes letting everyone know that the elf made it back safetly!
Elf on the Shelf Tips #6: Pep-Talk – You can do this!
So, how do you keep your elf on the shelf from driving your crazy? It's simple. Just let go of any concern that you may not have done it right.
I can guarantee that whatever happens with your elf, whether or not it gets moved around is totally unrelated to the outcome of Christmas.
This is just an added tradition to make memories, do don't let it stress you out!
Conclusion
So, what are you waiting for? Get out there and start playing with your elf ideas! The holidays can be a fun time, but they can also be stressful. Make sure you're not getting too caught up in the craziness of it all and keep things lighthearted. You may have moments when your elf doesn't do what he or she was supposed to do at exactly the right time, but try not to let that get you down. Remember: This is all just an opportunity for some family fun!